So, I've been headed to Albuquerque for business pretty regularly over the last year. And, I've got to admit, it's a great place to run. Mostly, I've been running on Albuquerque's great network of multi-use trails and bike paths. Well, that and swimming – found a great pool, good hours, great temperature.
But, man, does the altitude get to me. (Well, that, and being only moderately in shape and fat). It's been amazing for me to, as I've been getting back in shape, to feel better on the run. Or so I though…
Anyway, I woke up this morning to snow pouring over the Sandia mountains like steam rolling over the edge of a cauldron. Amazing. Work wrapped up a little early this afternoon, so on my way back to the hotel, I did a quick search for trail runs.

And, Runner's World had a great recommendation about the 365 trail in the Sandia foothills. A quick google, and I had a trail and topo map, courtesy of the City of Albuquerque.
Quick drive, and here I am. Parking lot at the top end of Copper Ave. 6,000, or so. The Rio Grande valley behind me, mountains in front of me.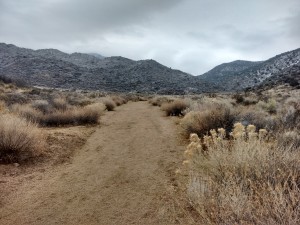 So, start running, and it's up, up, up.
And more up. Or, at least it feels like it. No air in my lungs for the entire first mile; mostly a walk-run. But, gentle snow was falling, and the trails were amazing. New England trails aren't like this – they're chunks of granite the size of babys' heads and branches, branches, branches. These were AMAZING – like beautiful crushed rock stretching out for miles, and miles, and miles. Plenty of elevation, plenty of smoove.
And the run was great. aside from the not being able to get oxygen to my lungs.
Made it up to the entrance to the Sandia National Forest Wilderness area at the intersection of the 193 and 365 trails.

Beautiful.
Decided to make a loop rather than an out and back. The second half of the run was, well, actually a run, more or less. Lots more down than up..
Anyway, great run. "Rave" is probably an accurate description. Hopefully get to knock it out again before I head home.