Sure, whatever. Man, that's a bad title.
Anyway, after an anti-climactic last week, we're well into February. Think that I'm stuck in an entire February loop, not just Groundhog Day. January wasn't nearly so bad a month as I'd anticipated – 11.8 K swimming (almost 8 miles? Not bad..), over 58 miles on the bike (In January, in Connecticut, all outside), and 40 miles running. Nothing groundbreaking, but a really solid month. The longest layoff I had was 4 days, and I doubled-up on 3 days.
Weight is coming down – about 184 now, compared to 186 at the beginning of the month. Need to focus on the eating – snacks kill me.
Today? Great freaking day. I dig me some running in the snow. And today was perfect – lots of snowflakes in the air but no accumulation to speak of. Kind of a snow drizzle.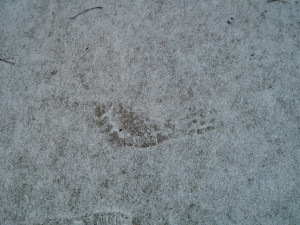 Ran the perimeter road. Only saw two other folks out during lunch, and not a whole lot of other footsteps. Mid 20's, no wind. Only big gripe is that my Nike+ SportsWatch couldn't find the GPS satellites through the snow clouds. Strava and the Nexus 4 worked like a champ, though:
Ran Saturday (3.6 miles). Swam Monday (1.2K). So February is 8.4 miles and 1.2K in 5 days. On track for 50+ miles running and 6K in the pool – need to crank it up everywhere.