Melissa kicked me out of the house to go ride Saturday Morning. Wow. I love that woman.
Anyhow, I decided to go ahead and document the ride because – well, because I could.
Sticky is the operative word today. Not hot, but plain old straight up sticky. Hot might even have been preferable.
I headed down into Old Mystic, and started channeling Bob Roll again. "They're in for some decent hills again today," he said. "Oh, crap," said I. There's a hill just on the south end of Old Mystic that I've been avoiding. It starts near an old 1789 house that's for sale, and climbs up and up. I was pleasantly suprised to find the boat below in a yard just at the base of the climb: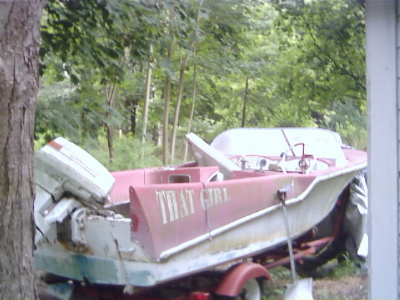 Fins. Like a Caddy. Wow. Just wow. Bobbke was in full force, and he and I were less than 3 miles out.
This, by the way, was the bottom of climb: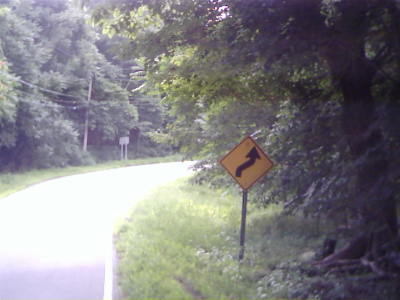 Yeah. Not only steep, but twisty. Not 21 turns of l'Alpe twisty, but not bad for no drive to hit the start of the ride. The view from the top, looking west, is below. Did I mention I love living near hills, even though they are kind of wimpy in the grand scheme?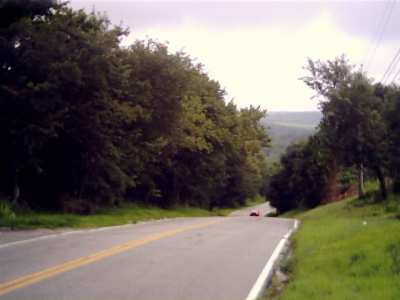 Climbing this one heading east from Old Mystic is the way to go. It's steep, but it's not wicked long. The west-bound approach (coming from Stonington) isn't that steep, but it's super long. While I was flying down here, I could hear Roll "He's out in front, but if he wants to stay there, he's going to have to ride that bike like it's stolen…"
This is the train depot in Mystic. Not really ride related. But I'm pretty pumped to live in a town with a real train. Everywhere else I have lived had nice stations, but hadn't seen a train in decades. Well, 'cept for Battle Creek – got to see Reagan's '80 whistlestop tour behind the library in downtown. But I was still in elementary school.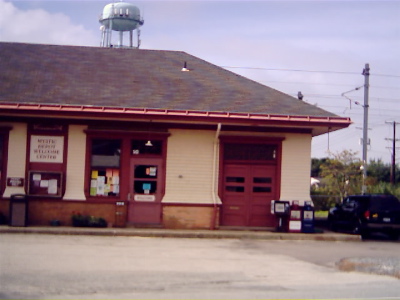 The drawbridge, however, was ride related: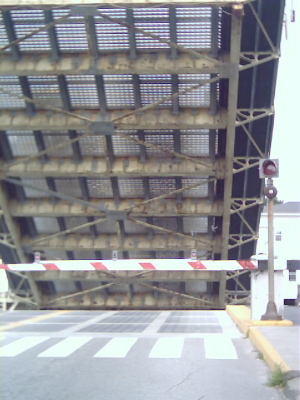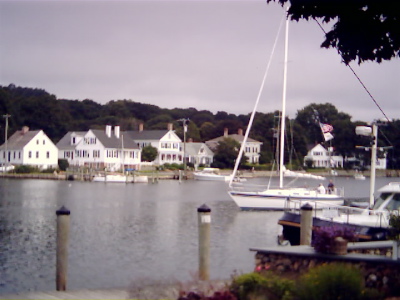 I was about 4 cars back when the gates went down to let this boat through (I liked, btw – looked like efficient hull; there was more of a wake from their dinghy). But all the cool cyclists head up to the front of the line, so the first across the bridge get to wave at the folks who were held up on the other side first.
Last bit was this dory – I've been watching it for a while, and just really like the lines: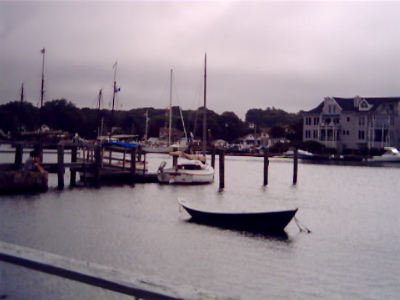 Sorry, forgot about these fellas: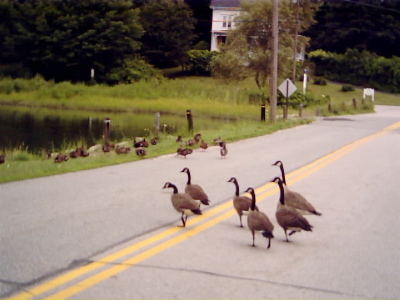 They're on the river road, and randomly cross, holding up riders, joggers, walkers, adn cars. At least they're tasty.