So, I think that one of the really positive outtakes from "Muscle over 40" for me has been just a little more desire to be active. And this week's "Fitness and Freshness" shows a pretty strong uptick: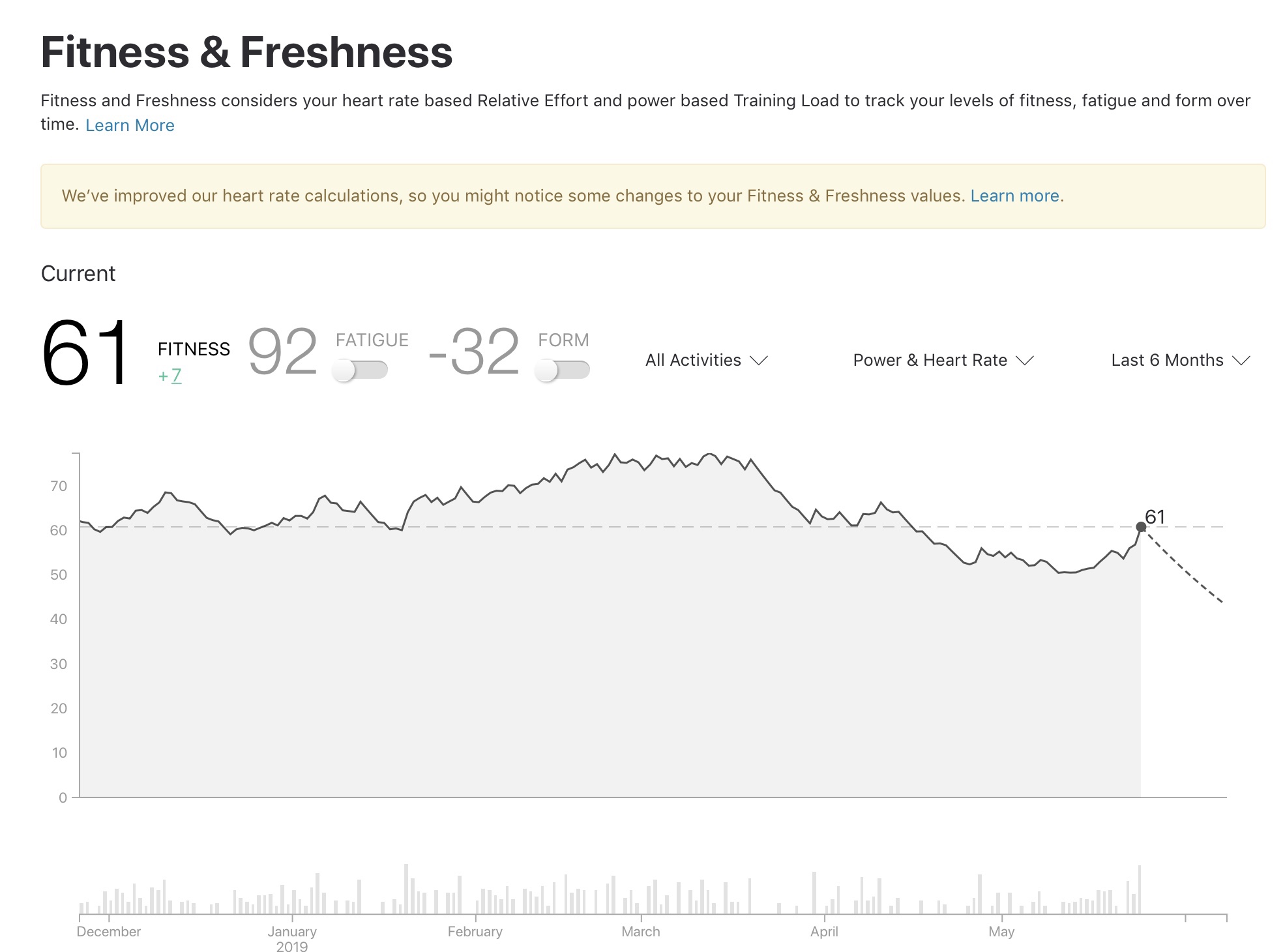 I'm finally back to where I was at the beginning of April, when I stopped running for a while due to a gimp ankle. The ankle's feeling much better.
Today was a day off. Originally, I thought I was going to study, but there's some local drama going around, so my sleep game has been off. Plus, the kids went off to work and school, and Mrs J looked at me and said "Wanna go?"
"Yuh." ;)
"OK", she said, and tossed my running shoes at me. Let's go.
Le. Sigh.
The run was strangely, strangely good. Which either means I'm about to break again, or that I may actually be getting better. Short run, just a couple miles.
After the run, it was on the bike again, down River Road, soaking in the light and air, and just kind of being joyous. It was weird being on River Road during the part of the day when most folks are working – most Saturdays and Sundays, it's tons of "Always Wave at your fellow cyclists who you see out there on the road". But this time, not so much. Like two other cyclists. On the other hand, the fishermen under the IH-95 bridge seemed pretty friendly, though Narragansett tallboys at 8 AM will do that for you.
Workout at the YMCA was humbling. Lessons learned:
DOMS* is most definitely a thing
60 year old ladies can kick my butt
I have the upper body of a cyclist and the midsection of a football fan
RE: DOMS – I think it's mostly the body saying "OK, I gave you the one day, but you really want to keep doing this?" But it had set in for certain this morning, mostly in the quads and glutes after doing the trap bar deadlifts on Wednesday. The run did a pretty good job of shaking it out, but still.
Re: 60 year old ladies – Today's workout was mostly arms, but it also included a set on the squat machine. In which, when I got there, there was a fit 60 something woman saying "Just one more set". Fine, I said, as I didn't necessarily mind the recovery.
When she was done, I fiddled around trying to figure out the machine, thinking I would need to add some weight. Turns out, I didn't have to to add an ounce. Woman was crushing it, and much like Mrs. Jank, could easily take me in a fair fight.
Re: My upper body – for the flys and the other arm exercises, I used a pathetic amount of weight as judged by the portion of the stack that I moved. Luckily, the woman from earlier was finished after the squat machine, so she didn't stick around to kick sand in my face.
Oldest kid works at the Y. He'd been up at 4 and out of the house at 4:30 in order to open the pool for the 5 AM swimmers. So, as I was finishing up, he was getting off, so we headed downtown for coffee and bagels. Really proud of the guy he's growing into; happy to have him home for the summer.
On the way out, I realized that I'd carried my new camera like 50 miles at this point without snapping any snaps. So, I parked the bike outside Harp and Hound.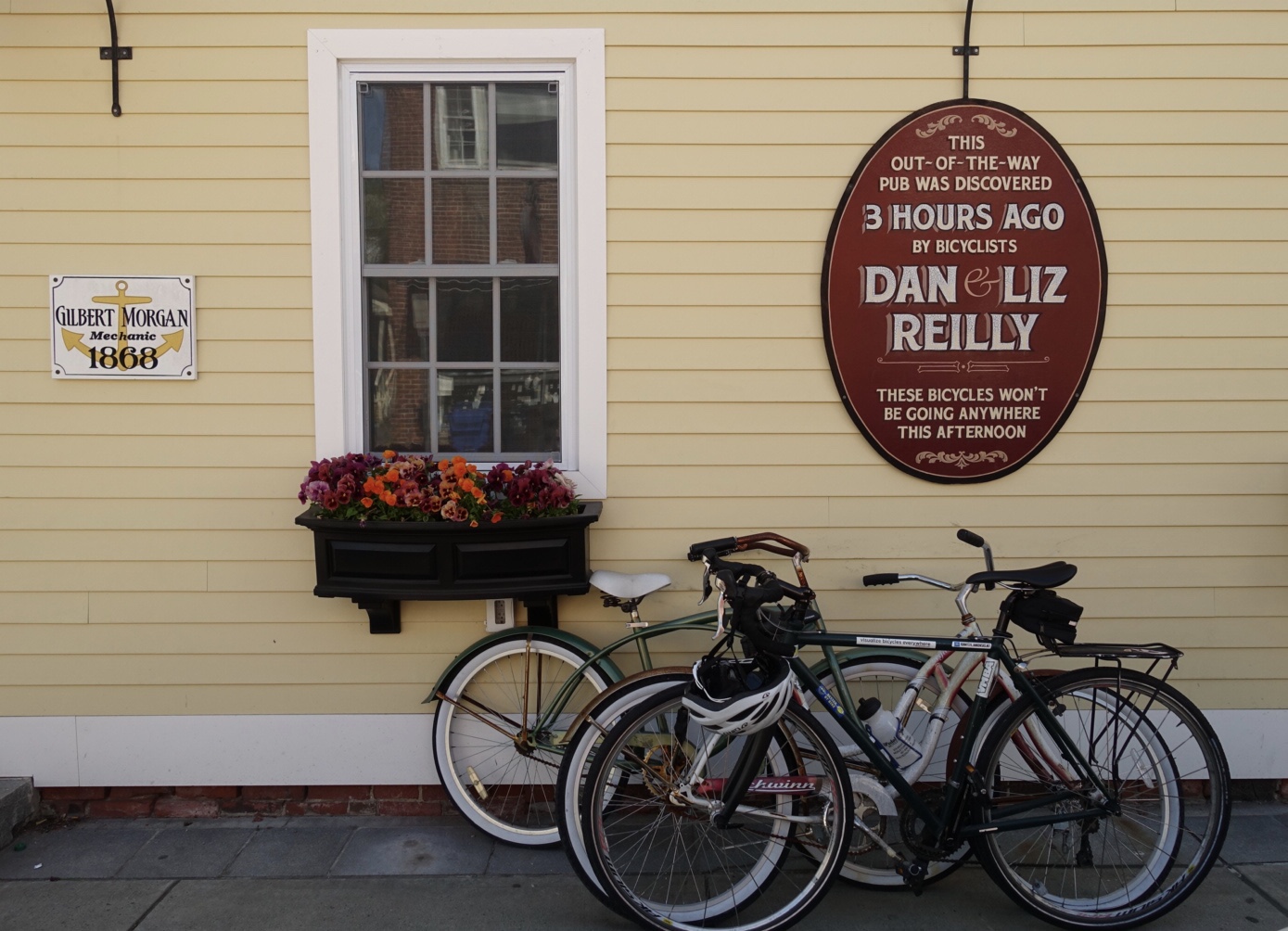 Probably should have stayed there for 3 hours.