So I think I'm over the whole "fiasco" of not upping my mileage last week. Weight this morning was on the light side of 179, and that's after being not so good food-wise over the weekend. No machine or convenience store candy – the Lenten vow is still intact. But we did Pizza Saturday night on the way back from Ikea in New Haven, and Sunday night was Steak and Mac and Cheeze (AKA make everyone happy night). But the weight is heading the right way. Yippie!
One of the side effects is having the areas of fat really start to stand out as my muscles get back in shape. I swear it'd be not too hard just to, say, lop off a butt cheek and drop 5 pounds without affecting endurance at all.
Oh, sorry – was that too personal? Sorry.
Great run today. Sort of. It was supposed to be a rest day, but after making yesterday an unplanned rest day, I figured I ought to get ahead for this week. I had a meeting in Newport in the morning and in Waterford in the afternoon, so I said "Hey, let's do a quick lap at Bluff Point between meetings." Another aside – I'm currently in euphoria stage as far as running is concerned. My love affair is peaked since I'm back at the point where I set a reasonable goal that's got some zazz (lap of the state park through the woods; run down scenic road), I accomplish it, and I feel reasonably good while doing it.
Anyhow – today was grey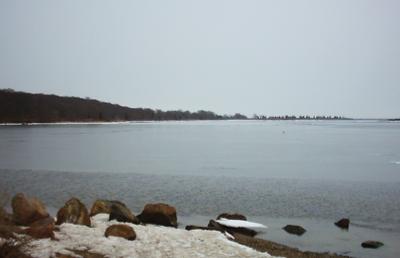 and muddy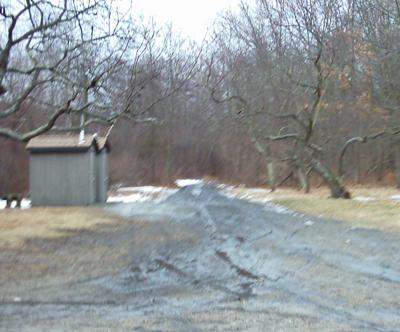 Yeah baby.
My Forerunner doesn't like Bluff Point – much like the XC ski trip, it died about halfway through. I hadn't charged it again, so I can't really blame the gear. Rough stats are distance closer to 4.5 than the 4 I thought it was in about 50 minutes. The first two miles rocked! I was flying, keeping my feet pretty dry, and having a blast. Then, I hit the really, really squishy mud (would have been great if I were running through my garden – good mix of humus and inorganics, nice and black). Some of it got into my shoe – I have a mild blister on my left instep.
Favorite mishap? The puddle of water I thought was about an inch deep was about 6 inches deep. Melt water is awfully cold.
Great run overall. My shoes are a wreck